Monetize your Overstocks with NetSuite Inventory Management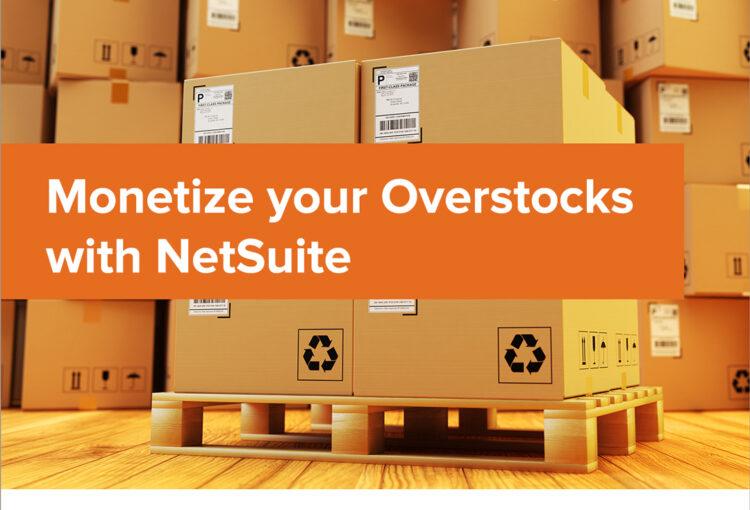 This blog will describe how a digital transformation with the Oracle NetSuite Enterprise Resource Planning (ERP) software reduces costs associated with inventory overstocks and stockouts. In addition to explaining the factors that favorably support this reduction in costs, it will describe a low risk way to begin a digital transformation with the Oracle NetSuite ERP.
NetSuite Inventory Management Reduces Inventory Carrying Costs
One often overlooked advantage of the digital transformation that takes place with the implementation of a new ERP system is improved inventory management. NetSuite inventory management functionality enables reduction in inventory levels held to prevent stock outs, thus increasing inventory turns and reducing the financial burden of holding too much stock. In addition, NetSuite inventory management can help prevent customer dissatisfaction when orders go unfilled due to stock outs. By reducing the number of overstocks and stockouts, the business can improve customer satisfaction and loyalty.
How does implementing the NetSuite ERP optimize inventory levels? In short, NetSuite provides real-time inventory visibility across all locations, which helps to avoid stock outs and overstocks. NetSuite ERP's advanced inventory management capabilities give businesses the ability to track and manage inventory levels, orders, and fulfillments across multiple locations in real time, all while maintaining lot and serial tracking. This additional insight provides better decisions about production planning and purchasing.In addition, NetSuite's automated replenishment functionality can be used to keep inventory at optimal levels without the need for manual intervention. As a result, businesses can save money by reducing inventory levels and improving customer satisfaction.
Optimized Inventory through Better Vendor Management
Another way NetSuite ERP optimizes inventory is through better vendor management. For example, NetSuite's advanced purchase order management functionality can track and help manage vendor performance. This information can then be utilized to improve forecasting and planning, which can lead to both reduced inventory levels and improved customer satisfaction.
Improved Inventory Management through Supply Chain Optimization
Implementation of the NetSuite inventory management software also optimizes the supply chain through improved SKU management and bill of materials (BOM) management. NetSuite's SKU management functionality helps businesses to track and manage inventory at the SKU level, which can lead to improved forecasting and reduced inventory levels. In addition, NetSuite's BOM management functionality can be used to optimize inventory levels by reducing the number of components needed to build a product when frequent part substitutions are made.
Reduce Stockouts and Improve Customer Satisfaction with Efficient Order Management
NetSuite ERP's order management features make it easy for businesses to manage their orders, from creating quotes and orders to tracking fulfillment. The Oracle NetSuite platform allows businesses to create purchase orders faster using automated workflows, streamline order-to-cash processes, and informcustomers in real time ofthe status of their orders. Through NetSuite ERP's advanced order management capabilities, businesses can improve customer satisfaction by reducing the time they need to fulfill an order and increasing visibility into their operations. With streamlined communications and shorter time from order receipt to customer delivery, customer engagement and retention benefits are realized, both of which help companies grow dynamically while maintaining optimal efficiency.
In conclusion, there are many potential benefits to be gained from implementing NetSuite's ERP system, including improved inventory management, increased customer satisfaction, and reduced costs.
NetSuite Starter Edition: A Shorter Path to Your Digital Transformation
Perhaps youhave heard that implementing an ERP system is a risky venture due to the percentage of implementations that fail as well as the length of time it takes to properly configure them. Fortunately, Oracle NetSuite has an answer for this challenge; start smaller with less cost, realize early benefits, and add to the system later as your own organization's digital transformation progresses. Beginning with the NetSuite starter edition, it is possible to do just that. For instance, NetSuite's starter editions provide all the functionality needed to get started with inventory management, financial management, and reporting. As your needs grow, you can add functionality to the system at your own pace.
The NetSuite starter edition is a great way to get started with NetSuite's ERP system and begin reaping the benefits of improved inventory management without breaking the bank.
Softype: A Reliable Oracle NetSuite ERP Partner
With more than 18 years of experience as an Oracle NetSuite solutions partner, you can rest assured that Softype will, on your behalf, negotiate the best terms Oracle has to offer. And with more than 400 successful implementations completed in 26 countries, Softype's team of experts has both the technical expertise and service ethic you need in an Implementation partner.
To learn more about how the friendly experts at Softype can help you monetize your overstocks and improve customer satisfactionby working with your team to implement the NetSuite ERP, please reach out to us today.
About Author