Today, it is essential that businesses must transform into dynamic digital companies. This has put tremendous stresses on business and IT groups to speed up transformation programs. One such transformation is integration of multiple databases/applications to ensure seamless operations. Most companies use 5-20 different pieces of software for their business. For work efficiency, these software need to be integrated. Enter Workato, the solution that addresses the technical and social gaps in business and IT required for modern integrations
What is Workato?
Workato is an integration automation tool that helps businesses connect disparate systems without the need for coding. It helps accelerate automation at scale and provides companies with a single platform for integration and workflow automation across the organisation.
How Workato and other Applications can work together?
Workato has a pre-built integration with many well-known and lesser-known business applications. These integrated frameworks are designed to work in a highly secure manner. They connect multiple systems/databases with each other allowing data to flow freely from one application to another and users to have seamless access to different applications within the system.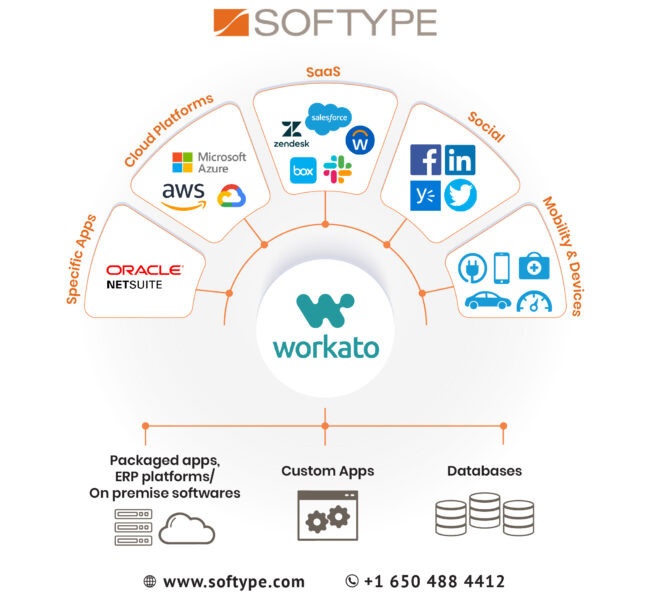 What are recipes?
Workato integrations and automations are called Recipes. Recipes are a set of steps in plain English that the integrator creates, making it easier for users to understand the link between and navigate different applications within the system.
Event Based
Real Time | Scheduled | Batch | Bulk
Smart Connectors
Auto-dedupe | In-Sequence Delivery | No data loss
Connect to Anything
Cloud | On-premise | Databases | Micro-services | Connector SDK
Enterprise-grade
Data Masking | Data-retention | Customer-specific keys | Instant Deployment | Auto-scaling
Powerful Logic
Linear | Branching | Looping | Try/catch | Error handling
Getting started with Workato
Companies can enlist the help of Softype to analyze their integration landscape and then build recipes to integrate and automate so that data can seamlessly flow from one application to another with ease.
With Workato, companies can connect and use data from multiple applications in an efficient and time-bound manner. Our experts will ensure that companies benefit from end-to-end technology solutions, all fully integrated to aid ease of operations across different platforms. Users will not need any prior knowledge of coding/programming to operate these systems that will result in improved efficiency and better productivity across the organization.
Contact Softype in case you are interested in fast, reliable, and secure integrations and automations using Workato. This can minimize work in your organization. Call Softype if you want to understand what Workato can do for you.